Specialized technology, consulting and development solutions for the healthcare industry.
Healthcare Industry Solutions
Healthcare IT Solutions are aimed at improving efficiencies and advancing quality of care with an ultimate focus of innovating for the future.
We offer end-to-end application development; helping drive transformation initiatives which connect medical providers to patient records, caregivers to colleagues and patients to practitioners for better care.
Hospital Management System:
Our Hospital Management software helps maintain the day to day activities of a hospital with various provisions to manage patient history, appointments, financial transactions and so on.
Maintain Patient Records - EMR
Facility to maintain patient medical records electronically for quick retrieval and reference.
Scheduling & Appointments
A comprehensive software for the hospitals to manage appointments of patients with doctors. Facilities to cancel and reschedule appointments are available.
Admission, Discharge, & Transfer Records:
A system to manage the patients starting from Admission till discharge. All ADT records can be maintained for quick reference and management.
Electronic prescription systems that can be used by doctors to provide understandable and error-free prescriptions to patients.
Automatic billing based upon consultation charges for instant billing and invoice generation.
Our software helps hospitals analyze their patient data for taking effective measures to provide better service to patients.
Our Telemedicine solutions help patients' book appointments online and connect with doctors virtually. This helps patients in geographically disadvantaged locations to receive the best treatments available.
Online consultation:
Helps patients connect with patients and families virtually via video call facilities to remove constraints of distance.
Schedule Real Time Appointments:
Patients can check the schedule of the doctors and book an appointment accordingly to avoid wastage of time at waiting rooms.
Follow-ups:
Our software application helps doctors track the follow-up sessions with patients to manage the treatment process without slips.
Access to Medical Notes & prescriptions:
Software application for doctors to refer patient's prescription history to better manage the consultation process.
Medical records management:
Software for patients to store their medical data in an organized way for reference during consultation.
Clinics Management:
Management of clinics with virtual systems that helps you only visit the clinic in case of emergency.
Clinical Communication Systems
Virtual and chat communication tools for the clinics help in effective internal communication between teams and also with the patients. These systems help in effective communication which helps in the better treatment of the patients.

Interactive Chat Systems:
Chat systems help in the interaction between the clinic staff and the doctors for effective treatment.
Shift Management:
Shift management systems to effectively manage clinic staff thereby maintaining staff availability when needed.

Subscription Model:
Subscription models helps patients pay an affordable amount for a service on a term basis, facilitating them to get on and off the service as per their convenience.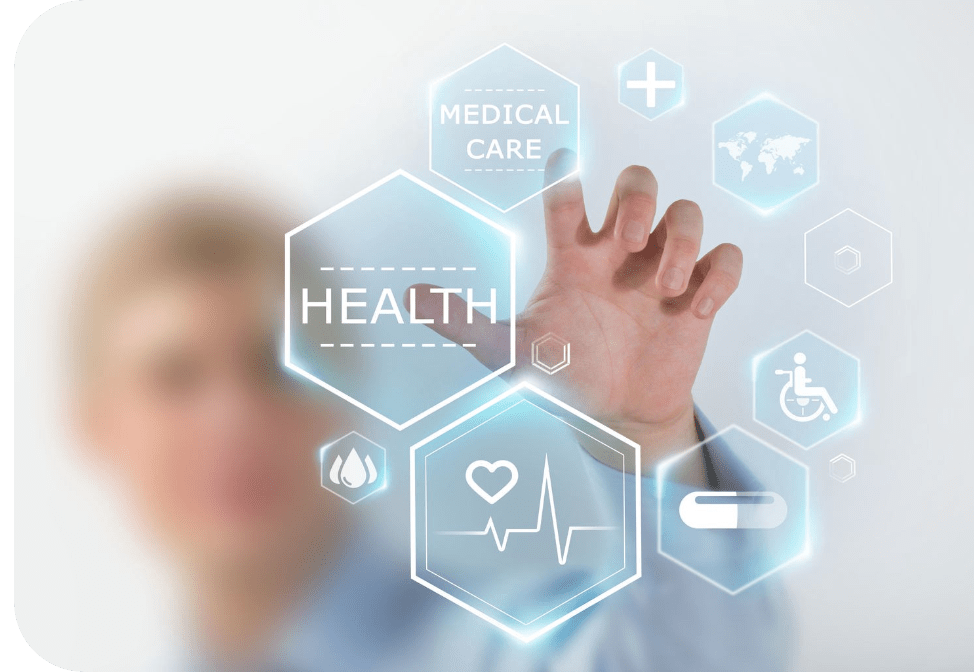 Our sophisticated Laboratory systems helps patients take diagnostic tests like sleep study, CGM, ABPM, and Holter at home making it a comfortable process.
Home delivery of reports based on patient availability for the convenience of patients.
Real Time Tracking of Technicians:
Comprehensive mobile applications for patients to track the technicians' status for installing and uninstalling of the device.
Systems for Lab executive to send lab reports to patients and also suggest specialist doctors for consultation.
Specialized doctors can provide their opinion on patients reports in case of requests by patients.
Systems to manage day-to-day operations of devices and consumables for the technicians.
Access controls for users can be maintained dynamically for better security.
Mobile and web based applications for pharmacies to receive orders online and deliver medicines to the Customers' home. Patients can manage their medications and order refills to their shipping address to their convenience.
Customers can upload the prescription at the click of a button and place order for medicines without any need to search for the product.
Customers can search through our advanced product search systems with auto-suggestion and order products.
Stock and Inventory Management:
System for pharmacies to manage inventory. Can be integrated with third party systems to get supply based on inventory demand.
Pharmacies can offer discounts and coupons on bills for the welfare of patients.
Achieving your health and fitness goals becomes an easy task with our systems that help you interact with your favorite fitness communities. Provisions for trainers to pre-record or live stream their videos to inspire others on the road of achieving fitness.
Trainers can live stream their videos of their training or upload pre-recorded videos to libraries for potential audience to use.
Seamless chatting facility for customers to contact trainers without the need for appointments.
Revenue by advertisements:
Generate additional revenue for the admin by adding pre-rolled videos of merchandise, services, training goods, etc.
Comprehensive hosting platforms so trainers can create their online studio and help customers right at their homes.
Subscription models available for trainers so that potential customers can pay an affordable price and use the services as long as needed. Facility for app admins to generate revenue via commissions.
Our interactive software help trainers create a follower base for them with their live and pre-recorded posts. Customers can pay a nominal amount and get updates from their favorite trainers.
Food & Diet Plan Solutions
We realize that different people require different diet plans compared to widely existing generic diet
plans. Our business solutions help dieticians form personalized diet plans based on individual needs to
help people meet their health needs.
Customize your diets based upon your lifestyle and genetic set up (DNA analysis) to get the best results.
GPS and Gyroscope based devices that track your movement and other factors like calories burnt, steps walked, heart rate etc. and track your fitness goals.
Integrated Dashboard and Leaderboard:
Dashboard to monitor your progress and a Leaderboard to view your points against your contenders for sharing a competitive spirit.
Interactive User Interface:
An easy to use and interactive UI for customers to view their fitness and diet improvements represented in form of graphs and charts.
Software that help you interact with others of the same goals and have a healthy competition to motivate them to reach the goals.
Platform for fitness and diet trainers to post their diet and workout methods for followers.
Loved and Trusted by the Industry Leaders




Are you interested in Doing Project with us?