Our eCommerce SEO Services experts concentrate on performance and help you produce additional revenue through your online companies. Our team is very enthusiastic about SEO and has helped many companies run profitable e-commerce. We cooperate with a team of highly-skilled, seasoned e-commerce developers in the USA. You can build a customized online shop with all the necessary e-commerce features you like. This requires the features and technological integrations required to make a profitable e-commerce company possible.
Our e-commerce pages are easy to access and thus encourage more purchases for your clients. As much as you do, we trust consumer ties. We therefore work together with you to make sure you understand every move we take and are highly valued for your contributions.
We're really cost-effective. We aim to please each of our customers by providing various budget plans and bundles. We don't let you go alone. Our job is never completed until we trust that your email company would be sufficiently successful. We will continue to tweak your online store to fit and maintain productive operation.
E-commerce SEO service must be adept at strategic planning, have a deep team with expertise in a number of SEO and SEO-related Internet marketing disciplines, and possess extremely strong campaign management skills. The requirement for these attributes becomes clear after reviewing important elements of an e-commerce SEO campaign. We have highly skilled eCommerce SEO experts that focus on eCommerce merchants and we're widely recognized as one of the eCommerce SEO companies online.
The keystone of your eCommerce SEO campaign. The keywords that we target set the entire strategy in motion.
Our eCommerce SEO campaigns start with an extensive site audit & analysis to identify both your weak spots and your best opportunities.
A site needs a strong foundation. We'll get your sitemap in order and make sure your link structure is easily readable.
We leave no tag unturned. When we get done with them, your web pages will be lean mean ranking machines.
The way to tell what your client are thinking is to watch how they act. Analytics can tell you a lot about how your clients behave when they think nobody's watching.
We look into your industry and see what's working, & the competition, and our chances at penetrating the top ten rankings.
No web store is an island. Our network of publishing partners can help you build a stronger link structure very faster.
Our best analysts will examine your metrics with a fine-tooth comb and can help you see your business in a brand new light.
We Specialize in the Top


eCommerce Platforms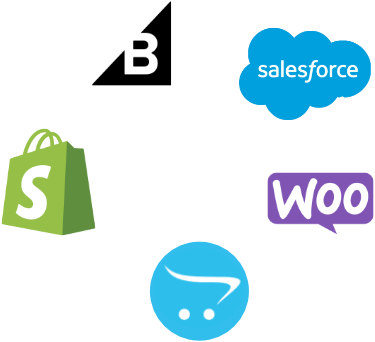 Loved and Trusted by the Industry Leaders




Are you interested in Doing with us?